TURKISH & MEDITERRANEAN GUITAR FESTIVAL COMES TO MIAMI:
MIAMI INTERNATIONAL GUITART FESTIVAL!
(The Trio Anka Concert on February 27 is sponsored by the Turkish Consulate)
February 24, 2016
Celso Cano &
Mesut Özgen
Wednesday, February 24, 2016
7:30pm WPAC Concert Hall
Celso Cano and Dr. Mesut Özgen present a program of solo and duo works from Renaissance, Latin American, and Turkish guitar repertoire, as well as their own compositions.
February 27, 2016
Trio Anka
Demet Gökalp, cello; Ayhan Uştuk, tenor;
Kağan Korad, guitar
Saturday, February 27, 2016
7:30pm WPAC Concert Hall
Trio Anka of Ankara-Turkey, comprised of guitarist Kagan Korad, tenor Ayhan Ustuk, and cellist Demet Gökalp, was formed in 2012 and presented their first concert as a trio in Izmir, Turkey. Each of its members also being an accomplished soloist, the trio appeared in many international festivals, such as Sevda Cenap And Music Festival in Ankara, Bellapais Music Festival in Cyprus, and Guitar Art Festival in Belgrade. The unique and warm sound of this unusual chamber group is critically acclaimed with their original arrangements of music by mostly mediterranean composers, including Joaquin Rodrigo, Roland Dyens, Carlo Domeniconi, Gaetano Donizetti, Jules Massenet, and Manuel de Falla.
For more information and tickets please visit www.migf.org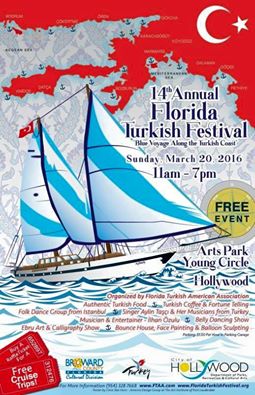 14th Annual Turkish Festival
Sunday March 20th 2016
11am - 7pm
FREE EVENT @ Arts Park on Young Circle in Hollywood, FL.
Welcome to Mediterranean Magazine of South Florida. Here you can find everything you need pertaining to the South Florida Turkish Community including: News, Restaurants, Festivals, Local Embassies, Language Classes and much more!
Güney Florida Akdeniz Kültürü Dergisi hoş geldiniz. Haber, Restoranlar, Festivaller, Yerel Elçilikler, Dil Sınıfları ve çok daha fazlası: Burada dahil Güney Florida Türk Topluluğu'na ait gereken her şeyi bulabilirsiniz!
Florida Turkish Immigration Lawyer
Seniz Misirlioglu
305-921-9665
Florida Turkish Consulate
Florida Turkish Consulate is under the jurisdiction of New York City
821 United Nations Plaza
New York, NY 10017
Phone: (212) 949-0160
Fax: (212) 983-1293
e-mail: tcbkny@broadviewnet.net
Florida Türk Konsolosluğu New York yetkisi altında
821 United Nations Plaza
New York, NY 10017
Phone: (212) 949-0160
Fax: (212) 983-1293
e-mail: tcbkny@broadviewnet.net
Miami Turkish Film Festival:
https://www.facebook.com/MiamiTurkishFilmFestival
Turkish Restaurants in South Florida
A la Turka
1848 Harrison St.
Hollywood, FL 33020
954-925-5900
Deniz Halal Deli
958 NE 62nd St.
Fort Lauderdale, FL 33308
www.denizhalalfood.com
954-766-4520
Efes Bistro Fish & Grill Turkish Restaurant
8903 Glades Rd.
Boca Raton, FL
561-488-8883
www.efesbistro.net
Babylon Turkish Restaurant
580 Washington Ave
Miami Beach, FL
786-216-7230
www.babylongmiamibeach.com
Istanbul on the Beach - Turkish Restaurant
707 North Broadwalk Hollywood, FL
www.istanbulonthebeach.com
954-921-1263
Mediterranean Kebob House
1676 Federal Hwy
Delray Beach, FL
561-276-5582
www.bestkebobhouse.com
Izgara Turkish Grill
1251 So Pine Island Road
Plantation, FL
954-475-8990
https://www.facebook.com/pages/Izgara-Middle-eastern-Cuisine/
Gulluoglu Baklava & Coffee Cafe
90 Miracle Mile
Coral Gables, FL
786-360-6506
www.gulluoglu.com
Meze Aegean Bistro
413 Washington Ave
Miami Beach, FL
305-397-8785
Turkish Organizations in South Florida
Florida Turkish American Assn / Florida Turkish Community Center
President - Zeynep Aytekin
3020 NE 32nd Ave. Fort Lauderdale, FL 33308
www.ftaa.com
Turkish American Chamber of Commerce - Southeast
www.taccsoutheast.com
Istanbul Center of Miami Beach
www.istanbulcenter.org
South Florida Turkey Sister Cities Programs
Fort Lauderdale, FL - Mugla, Turkey
Lauderhill, FL - Gemlik, Turkey
North Lauderdale, FL - Yatagan, Turkey
Florida Turkish Gazette / Turkish Newspaper
www.floridaturkgazetesi.com
Two Turkish Judges Arrested in Gulengate Scandal
Turkish authorities have arrested two judges who recently ordered the release of over 70 suspects detained on charges of affiliation to US-based opposition cleric Fethullah Gülen and attempts to overthrow the incumbent administration.
Metin Özçelik, judge of the Istanbul 29th Penal Court of First Instance, was arrested on April 30 following an order from the Bakirkoy 2nd High Criminal Court in Istanbul.
Mustafa Başer, from the Istanbul 32nd Penal Court of First Instance, was referred to court and subsequently arrested on Friday.
The judiciary died today. I extend my condolences to the Turkish nation," Başer tweeted minutes after Thursday's court ruling on his arrest.
The two judges were recently suspended by Turkey's Supreme Board of Judges and Prosecutors (HSYK) following their weekend verdict for the release of 74 former police officers and the head of the Samanyolu TV channel Hidayet Karaca from police custody.
President Recep Tayyip Erdogan has welcomed the detention orders, describing as illegal the earlier court ruling by the two judges to release Karaca and the officers.
Both judges have been charged with membership of "an armed terrorist organization" and impeding the work of the government.
Karaca and the police officers are believed to be followers of Gülen, whom Erdogan has accused of being behind corruption allegations and social media leaks against his government.
Chairman of Turkey's Supreme Court of Appeals, Ismail Rustu Cirit, defended the arrests of the judges, saying they had "acted unlawfully."
Defense Minister Ismet Yilmaz said it was possible for one judge to rule for the arrest of another judge.
"Everybody should respect the judiciary. The nation should be able to trust the work of the judicial mechanisms. We have trust in them," Yilmaz commented.
Meanwhile, the European Union has highlighted the importance of the rule of law and the independence of Turkish judiciary over the case of the two judges.
"We would like to use this opportunity to recall the principles of the rule of law, including the independence of the judiciary, to which Turkey as an EU candidate country has committed to. We hope the case will be dealt with in a transparent manner and in full clarity in line with relevant judicial rules and procedures and in conformity with the Turkish Constitution," said Maja Kocijancic, the European Commission spokeswoman for neighborhood policy and enlargement negotiations.
Turkey's ruling Justice and Development (AK) Party has sacked thousands of police officers and dozens of judges in what is seen as an attempt to stop a legal investigation into alleged cases of graft and abuse of power.
The government's introduction of some legislation for tightening the grip on judiciary and the Internet has triggered huge criticism inside and outside of the country, with many activists calling them direct violation of people's right for democracy and freedom of expression in Turkey.
Gulengate Skandalı Tutuklandı İki Türk Yargıçlar

Türk makamları son zamanlarda ABD merkezli muhalefet din adamı Fethullah Gülen eğilimleri suçundan gözaltına alınan 70 üzerinde şüphelilerin serbest bırakılmasına karar ve görevdeki yönetimini devirmek için çalışır iki hakimler tutukladı.
Metin Özçelik, Asliye İstanbul 29. Ceza Mahkemesi hakimi, İstanbul Bakırköy 2. Ağır Ceza Mahkemesi'nin bir sipariş takip 30 Nisan'da tutuklandı.
Asliye İstanbul 32. Asliye Ceza Mahkemesi'nde Mustafa Başer, mahkemeye sevk ve ardından Cuma günü tutuklandı.
Yargı bugün öldü. Ben Türk milletine başsağlığı dileklerimi, "Başer tutuklanması üzerine Perşembe günü mahkeme kararından sonra dakika tweeted.
İki hakimler son zamanlarda hafta sonu 74 eski polis memurunun serbest bırakılması için kararı ve polis nezaretinde gelen Samanyolu TV kanalı Hidayet Karaca başkanı takip Hakimler ve Savcılar Yüksek Kurulu, Türkiye'nin (HSYK) tarafından askıya alındı.
Başbakan Recep Tayyip Erdoğan Karaca ve subayları serbest bırakmak için iki hakem tarafından önce mahkeme kararı yasadışı açıklayan, gözaltı emirleri ağırlamıştır. Her iki yargıçlar "silahlı terör örgütü" ve hükümetin çalışmalarını engelleyen üyeliği ile suçlanıyor.
Karaca ve polis memurları Erdoğan hükümetine karşı yolsuzluk iddiaları ve sosyal medya sızıntıları arkasında olmakla suçladı Gülen, takipçileri olduğuna inanılmaktadır. Temyiz Türkiye'nin Yüksek Mahkemesi, İsmail Rüştü Cirit, Başkanı da söyleyerek, hâkimlerin tutuklamaları savundu "hukuka aykırı davrandı."
Milli Savunma Bakanı İsmet Yılmaz, bir yargıç başka yargıcın tutuklanması için kural için mümkün olduğunu söyledi.

"Herkes yargıya saygılı olmalıdır. Ulus adli mekanizmaların çalışmalarını güven gerekir. Biz onlara güven var, "diyen Yılmaz yorumladı.

Bu arada, Avrupa Birliği hukukunun üstünlüğü ve iki yargıçtan oluşan dava Türk yargının bağımsızlığı önemini ön plana çıkarmıştır.

"Biz hangi bir AB aday ülkesi taahhüt etmiştir Türkiye'nin olduğu gibi, yargı bağımsızlığı da dahil olmak üzere hukukun üstünlüğü, ilkelerini hatırlamak için bu fırsatı kullanmak istiyorum. Biz dava şeffaf bir biçimde ve ilgili yargı kuralları ve prosedürleri doğrultusunda tam netlik ve Türk Anayasası ile uyumlu ele alınacaktır umuyoruz "Maja Kocijancic, komşuluk politikası ve genişleme müzakereleri için Avrupa Komisyonu sözcüsü söyledi. Türkiye'nin iktidardaki Adalet ve Kalkınma Partisi (AKP) greft ve gücün kötüye iddia edilen vakalarda bir yasal soruşturma durdurmak için bir girişim olarak görülüyor ne polis memurları ve hakimlerin onlarca binlerce görevden etti.
yargı ve internette kavrama sıkma için bazı mevzuat hükümetin tanıtımı onlara demokrasi ve ifade özgürlüğü için halkın hakkının doğrudan ihlali çağıran birçok aktivistlerle, ülke içinde ve dışında büyük eleştirilere yol açtı.