FIFTH ANNUAL BOLLYWOOD BILLIONAIRES
Monday, July 15 2024 Six O'Clock
The Palace Cuisine of India
11422 W State Rd 84 Davie, FL 33325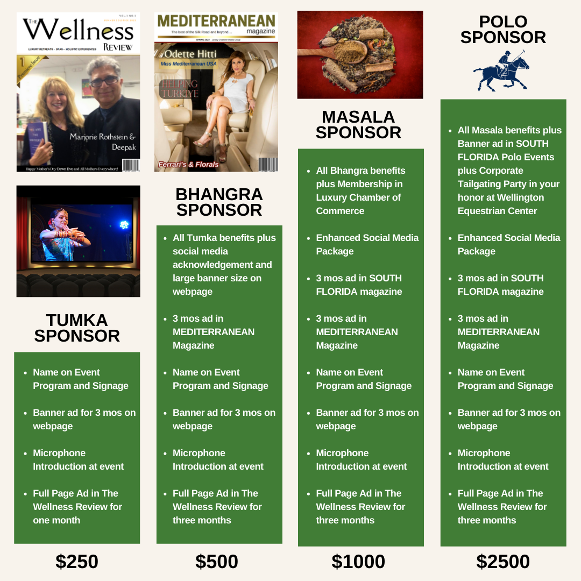 To sponsor send funds via zelle to: 561-376-0033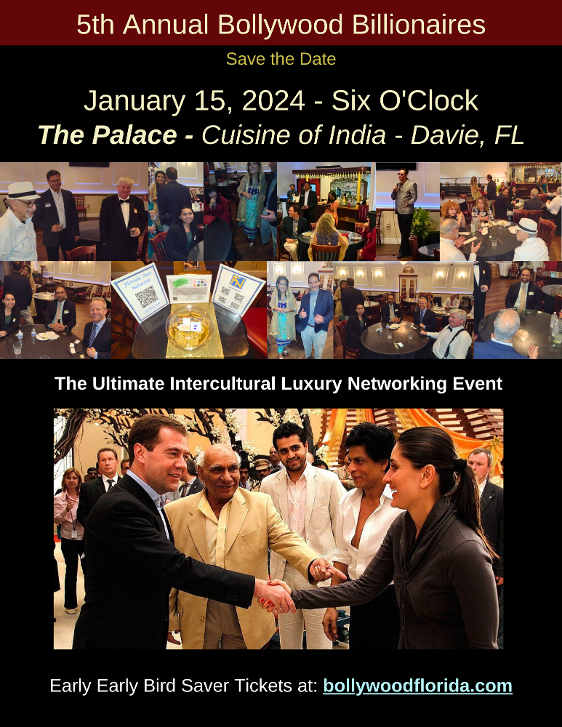 We are excited to invite you to the highly anticipated
5th Annual Bollywood Billionaires
event, presented by Luxury Chamber. Join us on Monday, January 15, 2024, from 6-9 pm at The Palace Indian Restaurant in Davie, FL, for an unforgettable evening celebrating culture, networking with local notables and celebrities, and supporting charitable causes like the Florida Arts Network. Experience the vibrancy of Indian culture as we indulge in authentic Indian music and captivating entertainment throughout the event. It's the perfect opportunity to immerse yourself in the mesmerizing world of Bollywood! Network with influential professionals and celebrities from various industries, fostering connections and sparking new collaborations. This exclusive gathering promises to provide a prime platform for exchanging ideas and building relationships with like-minded individuals.
Open Bar for Sponsors
1 Complimentary Drink for Attendees
Complimentary Food for ALL
Diplomat Level Chamber of Commerce Networking
Mingle with major film Producers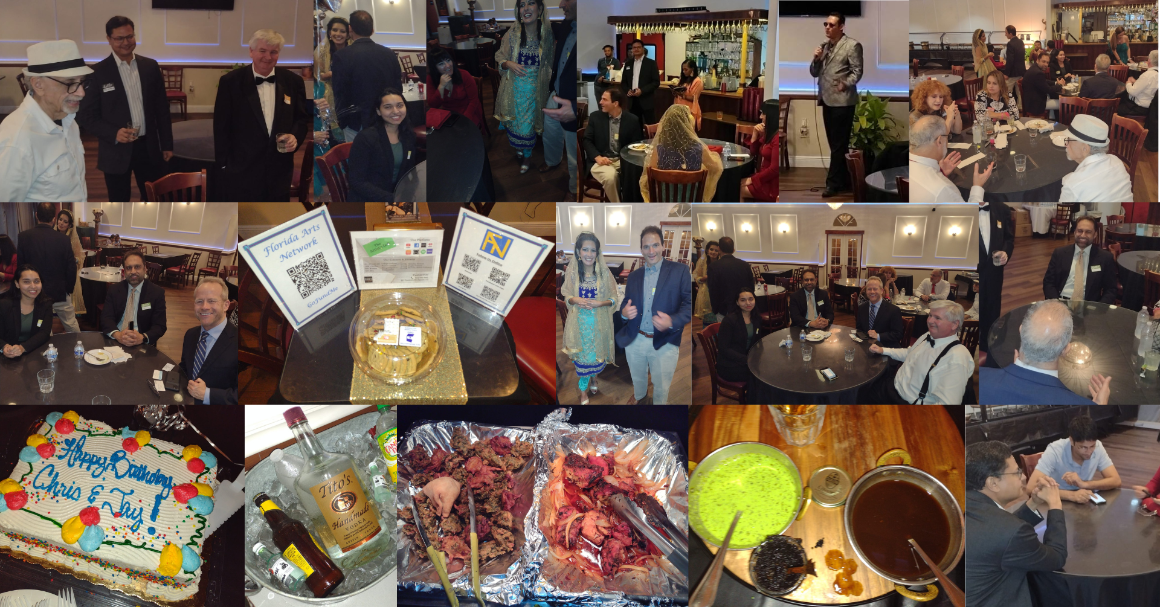 Welcome to BollywoodFlorida.com also found at: mediterraneanmag.com/india
This page serves as the Indian and Near East Cultural Division of Luxury Chamber Media Group
Indian & Silk Road Cultural Blog | Bollywood Billionaires Event | Public Relations Portal
FAQ
What is Luxury Chamber Media Group?
A.) LCMG consists of:
LUXURY CHAMBER of COMMERCE
200 Social Media Groups and Pages
Mediterrannean Magazine
The Wellness Review Magazine
Mondo Italiano Magazine
SOUTH FLORIDA magazine
SOUTHWEST FLORIDA magazine
GOOD JEWISH NEWS
Latin South Florida Magazine
We serve as a for-profit networking group which honors local non-profits, a public relations firm and luxury lifestyle marketing agency with cultural ties.
Why is the Bollywood Florida page hosted on the Mediterranean Magazine website?
A.) Synergistic, Cultural and Financial Reasons
Culturally speaking, India was connected to the Mediterranean region through the Silk Road, a network of ancient trade routes that facilitated the exchange of goods, ideas, and cultural practices between regions. Indian philosophical concepts, such as yoga, meditation, and Ayurveda, found their way to the Mediterranean region, influencing philosophical and spiritual thought. The Silk Road served as a conduit for the exchange of artistic styles, techniques, and motifs. Indian art, with its intricate carvings, sculptures, and paintings, had an impact on Mediterranean artistic traditions. Greek and Roman influences can be seen in the art of ancient Gandhara (present-day Pakistan and Afghanistan), which was a region on the Silk Road where Indian and Hellenistic cultures merged. An interesting example is that of Flamenco dance / music of Spain sharing traditional roots with India and her Kathak music.
The founder of LCMG Mr. Jay Shapiro is a culture vulture who enjoy's connecting cultures via shared roots through hosting events and publishing cultural articles. Futhermore he publishes 8 magazines already and would love to launch an additional magazine yet the time constraints and financial resources indicate that tapping in on the fusion created by the Mediterranean website can be a strong benefit for luxury chamber members, the local Indian community and South Florida residents in general.
European Shoemaker AstorMueller Unveils a new bugatti Store in Delhi's Select CITYWALK Mall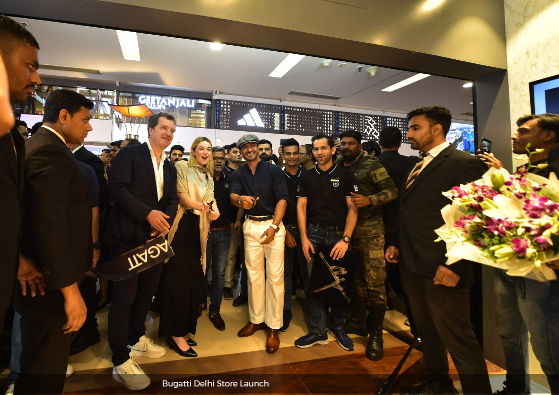 With meticulous attention to detail and a commitment to craftsmanship, the bugatti store stands as a testament to AstorMueller's dedication to the fine art of shoemaking. The store ushers in a new style and self-expression in Delhi's retail landscape and promises a world-class shopping experience for the city's discerning fashion enthusiasts.
The bugatti store provides a seamless shopping experience, showcasing a diverse range of trendsetting footwear and accessories for both men and women. From contemporary designs to exquisite craftsmanship, every pair of bugatti shoes tells a story of unmatched artistry and timeless sophistication, offering customers the perfect pair of shoes to express their individual style.
Since its establishment in Germany in 1928, AstorMueller has nurtured a rich legacy of shoemaking expertise. This time-honoured tradition has greatly benefited its brands such as bugatti, BAGATT and Daniel Hechter, enabling them to evolve as a symbol of ingenuity and style in the European market and beyond.
Over the years, bugatti has established a venerable reputation in the realm of high-fashion footwear. Staying true to its heritage, the newly launched store proudly showcases bugatti's latest collection of shoes, offering a versatile range of looks, including Casual, Athleisure, Sports and Formal styles that embody the multifaceted personality of the bugatti man.
Complementing this collection is the prestigious BAGATT brand, exclusively retailed within the store. A manifestation of Italian finesse and artistry, BAGATT is elevating the realm of women's footwear, with its array of iconic styles ranging from knee-high boots to exquisite heels, captivating sneakers to luxurious slip-ons. "At AstorMueller, we are dedicated to a continuous pursuit of excellence, diligently honing our product offerings to mirror the distinct persona, individuality and refined tastes of our customers. Our Spring Summer 23 collection represents the best of European fashion trends, thoughtfully curated to meet the discerning demands of Indian consumers.
By launching the bugatti store at Select CITYWALK, Delhi, one of the finest shopping centres in India, we aim to forge a lasting connection with the capital city, fostering an enduring relationship with our customers in the region through our brands bugatti and BAGATT," adds Sandip Baksi, COO & Retail Head (India) of AstorMueller.
About AstorMueller:
With origins dating back to 1928 in Germany, AstorMueller is a leading European shoe-making company renowned for generations of expertise in shoemaking and global production capabilities. With an international design team and development centres across Switzerland, Germany, Italy, and India, AstorMueller consistently creates and delivers high-quality, trendsetting shoes. The company retails bugatti, BAGATT and Daniel Hechter, across Europe and is rapidly expanding its presence in India.
"The Best of the Silk Road and Beyond"
Mediterranean Magazine is one of seven lifestyle magazines published by Luxury Chamber Media Group. Our focus is on Mediterranean Design, Food, Fashion, Art, Culture and Events. Published quarterly we feature recipes, articles about olive oil & wine tasting, cultural events, Mediterranean cruises, spices, and celebrity fashion designers.
LUXURY CHAMBER MEDIA GROUP
© 2013 - 2023 All Rights Reserved - Mediterranean Magazine

mediterraneanmag.com