MEDITERRANEAN magazine | France | Travel |Food | Culture & History
MONDRIAN CANNES BRINGS MODERN CULTURAL FOCUS TO HISTORIC HOTEL AND GARDENS IN THE FRENCH RIVIERA
Ennismore
, the fastest-growing lifestyle hospitality company, today launches the first Mondrian hotel in
France
with
Mondrian
Cannes
. Located just 7 minutes from the famous steps of the Palais de Festival, the property sits on the site of the first luxury hotel in
Cannes
opened in 1863. It also maintains the privilege of the only gardens on the Croisette as a green haven protects the hotel from the busy boulevard and Rue d'Antibes and frames a unique view of the sea.
M
ondrian hotels are always at the heart of the world's cultural calendar, and Mondrian Cannes delivers architectural glamor with public spaces realized by Franco-Brazilian agency Triptyque. Imbued with a natural vitality, Triptyque's work in the hotel's lobby, restaurant, bar and terraces creates a dialogue between the legendary building's sophisticated interiors and the gardens leading down to the Croisette, employing a palette of materials that draws from the beauty of wood, marble, leather and plant fibers.
Art takes center stage at all Mondrian hotels, and in Cannes, the spotlight is on artist Mathilde de l'Écotais. After starting out as an international correspondent, she chose photography as her means of expression and nature as her subject. At Mondrian Cannes, her work interacts with the hotel's architecture and feeds into the naturalist energy of the décor. She dresses up the restaurant ceiling, livens up each public area and decorates the flight of stairs with a unique theme.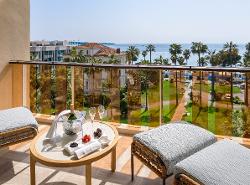 Guest rooms embrace Art Deco furniture and a color palette inspired by the ocean. Above the sand and blue carpet, the white, beige and gray décor shot with black, exhibit a classic French Riviera style. The same applies to the geometric lines of each of the guest bathrooms which use marble, glass and metal. On the town-facing side of Mondrian Cannes, guest rooms are a generous 430 square feet. On the sea-facing side, rooms and suites enjoy magical views of the ocean - accompanied by wide French windows, which open out onto private terraces. The décor's fresh elegance brings the architecture's geometrical lines into play with the curves of the carpet undulating towards the wide open sea. On the 11th floor the Panoramic Room offers an outdoor terrace with whirlpool tub, a sea-view bathroom and stunning views of the entire Bay of Cannes. Next door, the Signature Suite offers extra-high ceilings and a spectacular terrace accessible from both the bedroom and lounge, offering sweeping views across the Croisette.
Culinary aficionados will flock to Mr. Nakamoto's restaurant as the menu created by London Chef Alex Craciun showcases a dual culinary culture combining French and Japanese influences. A strong New York influence and 'eccentricity' has been cultivated, where desserts are flambéed at guests' tables while a Martini chariot rolls by in celebration of the great American Martini. Along with a strong emphasis on seafood and the local catch of the day, guests can dine on spectacular seafood platters, delicious salads and exceptional meat dishes, yakitori or sushi at the Mr. Nakamoto bar. All are expertly put together by Chef Hervé Busson, former second-in-command to Sébastien Broda at Park 45.
Adjacent to Mondrian Cannes is Hyde Beach Cannes, which celebrates the Mediterranean and southern art de vivre with unique flavors and an undeniably elegant atmosphere. With an azure backdrop and fine white sand, the palette of sun-drenched colors complement olive and palm trees. The cuisine of Chef Gabriele Faiella, who trained with Gordon Ramsay, brings a taste of Italy to diners, combining fresh produce with perfectly attentive service. Offering a mouthwatering array of cocktails and signature beverages, Hyde Beach Cannes is casual in the daytime and livelier in the evening.
North of the Mediterranean - Luxury River Cruises Make a Comeback in 2023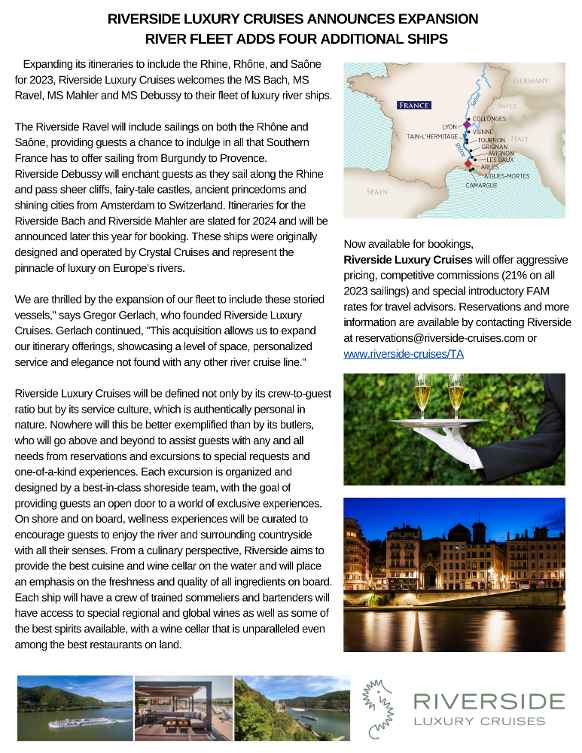 About the Rivers:
The Rhine River is by far the most popular river for tourists touring France. Stretching more than 1,320 miles throughout Europe, it's no wonder why the Rhine has become a hotspot for travelers. This winding waterway runs through six countries: Austria, Germany, France, Liechtenstein, the Netherlands and Switzerland. It passes through stunning scenery including the Black Forest of Germany and the Swiss Alps. The main port city of Strasbourg makes an excellent starting point for a Rhine cruise as there are plenty of historical sites to explore in between cruise stops.
The picturesque Rhone River flows through some of France's most iconic cities. Starting in Switzerland and ending near Arles in Southern France, this river offers a unique insight into French culture and history. Highlights along its banks include famous wineries located in Burgundy and Beaujolais regions as well as beloved cities such as Avignon and Lyon which feature incredible architecture like the Pont Saint-Bénézet bridge at Avignon and UNESCO-listed buildings at Lyon's Vieux-Lyon district. Cruising on the Rhone River allows travelers to experience all these wonders without having to leave the comfort of their own ship.
The Saône River is often called "the forgotten river" because it is one of the lesser-known rivers in France but it has plenty to offer those who take time to explore it. This meandering river flows from its source high in eastern France near Vesoul through Burgundy before emptying into the Rhone near Lyon. Along its route are many charming villages with medieval squares that beg to be explored by visitors on foot or by bike. Also worth noting are peaceful boat trips offered along small canals connected to this mighty river - perfect for admiring nature and wildlife up close! Finally, a formal Chateau Cruise provides passengers with an opportunity to learn about regional wines while cruising past chateaus along this overlooked waterway.
Overall, if you're looking for an unforgettable trip full of adventure and beauty – then look no further than a river cruise down one of these three rivers in France: The majestic Rhine for its stunning mountainside views; The enchanting Rhone for its vibrant cities drenched in history; And finally, The Saône – which may be less traveled but is no less beautiful!
Luxury Chamber Media Group
Ⓒ 2013 to Present