MEDITERRANEAN magazine | France | Travel |Food | Culture & History
North of the Mediterranean - Luxury River Cruises Make a Comeback in 2023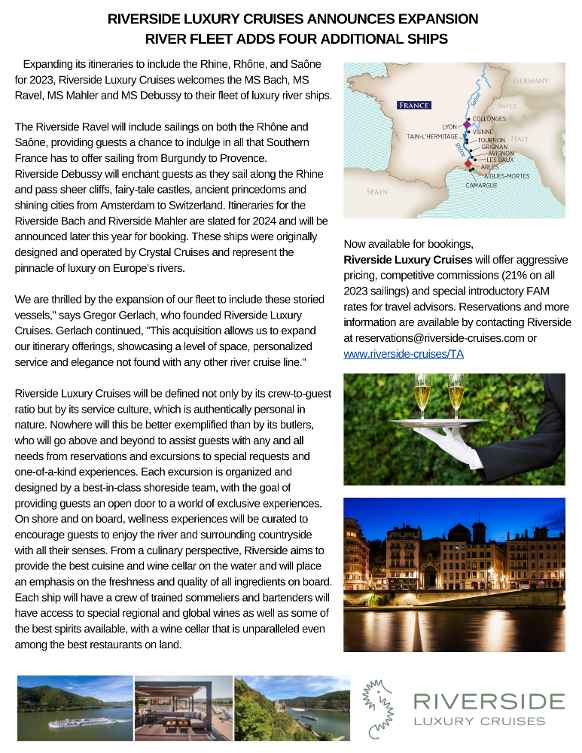 About the Rivers:
The Rhine River is by far the most popular river for tourists touring France. Stretching more than 1,320 miles throughout Europe, it's no wonder why the Rhine has become a hotspot for travelers. This winding waterway runs through six countries: Austria, Germany, France, Liechtenstein, the Netherlands and Switzerland. It passes through stunning scenery including the Black Forest of Germany and the Swiss Alps. The main port city of Strasbourg makes an excellent starting point for a Rhine cruise as there are plenty of historical sites to explore in between cruise stops.
The picturesque Rhone River flows through some of France's most iconic cities. Starting in Switzerland and ending near Arles in Southern France, this river offers a unique insight into French culture and history. Highlights along its banks include famous wineries located in Burgundy and Beaujolais regions as well as beloved cities such as Avignon and Lyon which feature incredible architecture like the Pont Saint-Bénézet bridge at Avignon and UNESCO-listed buildings at Lyon's Vieux-Lyon district. Cruising on the Rhone River allows travelers to experience all these wonders without having to leave the comfort of their own ship.
The Saône River is often called "the forgotten river" because it is one of the lesser-known rivers in France but it has plenty to offer those who take time to explore it. This meandering river flows from its source high in eastern France near Vesoul through Burgundy before emptying into the Rhone near Lyon. Along its route are many charming villages with medieval squares that beg to be explored by visitors on foot or by bike. Also worth noting are peaceful boat trips offered along small canals connected to this mighty river - perfect for admiring nature and wildlife up close! Finally, a formal Chateau Cruise provides passengers with an opportunity to learn about regional wines while cruising past chateaus along this overlooked waterway.
Overall, if you're looking for an unforgettable trip full of adventure and beauty – then look no further than a river cruise down one of these three rivers in France: The majestic Rhine for its stunning mountainside views; The enchanting Rhone for its vibrant cities drenched in history; And finally, The Saône – which may be less traveled but is no less beautiful!
Luxury Chamber Media Group
Ⓒ 2013 to Present